INCREASE YOUR BUSINESS POTENTIAL
Networking provides the "personal contact" that today's business still needs in order to grow, while technology provides the "maintenance support" to keep your business flourishing.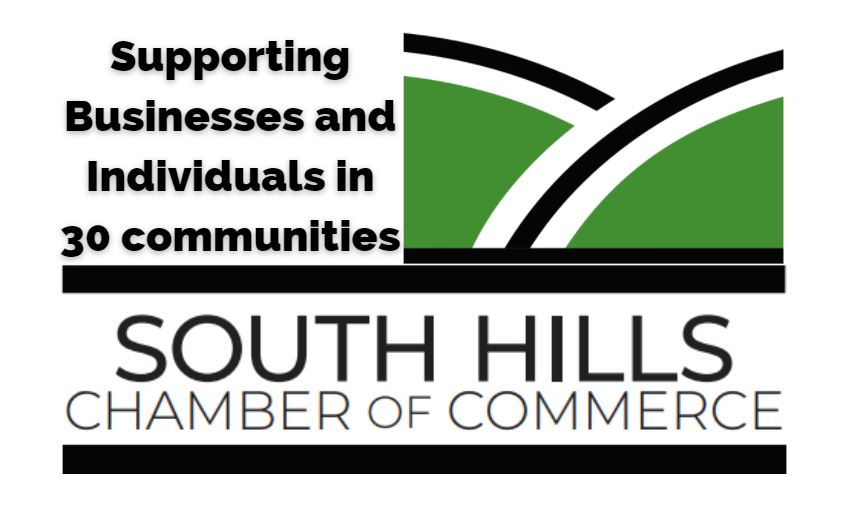 WELCOME TO THE PULSE OF THE SOUTH HILLS
At the South Hills Chamber of Commerce, we're excited about all of the events that we are planning, and the membership that we are growing.
Please be sure to check our Facebook page and our calendar for the latest updates.
At the Chamber, we support professionals in 30 communities, including, Banksville, Beechview, Brookline, Bethel Park, Castle Shannon, Crafton, Dormont, Green Tree, Jefferson Hills, Mt. Lebanon, Pleasant Hills, South Park, and Upper St. Clair. We remain committed to one goal: to be your regional resource for connecting and business success. 
The Chamber is the "pulse" of the South Hills business community. Being an active member provides you with opportunities to promote, support, and enhance your business and others in our footprint. Through our electronic newsletter, events, and networking opportunities, our members can expand their connections to better support each other and hence the communities we serve.
Becoming a member of the South Hills Chamber of Commerce provides you with a variety of benefits such as these:
Years Since Incorporation
Originally organized in the early 1940's as a Board of Trade, the Chamber incorporated in 1949 as the Bethel Park Chamber of Commerce and was later renamed the South Hills Chamber of Commerce.  The South Hills Chamber of Commerce, your "Regional Resource for Business Success", is committed to supporting the business community in the South Hills of Pittsburgh.  The Chamber is also dedicated to growing and expanding our services. There are many new networking opportunities for you as an active member.  We understand that you are busy working in, growing and planning your business; however, we also recognize the value of expanding your business resources and contacts.  We encourage your participation.
We are pleased to extend a welcome to Home-Based and New Start-up Businesses.  We encourage you to take advantage of the services and space available at our facilities.  We know how hard it is to do it alone. We are here to assist you with growing your business through promotional and networking opportunities.  We will help you market your product and services, along with special programming and training. If you are looking for networking, marketing, education, business advocacy, discounted services and business relationship building opportunities – you have found that and much more at the SOUTH HILLS CHAMBER OF COMMERCE.
If you are not a member, Join Us Today!
Our members come from many areas in and around the South Hills, as indicated in the sample area listing below:
Baldwin Boro (15227/15236)
Baldwin Township (15227/15236)
Bethel Park (15102)
Bridgeville (15017)
Canonsburg (15317)
Carnegie (15106)
Castle Shannon (15234)
Crafton (15205)
Dormont (15216)
Greentree (15220)
Jefferson Hills (15025)
Library (15129)
McMurray (15317)
Mt. Lebanon (15228)
Mt. Oliver (15210)
Mt. Washington (15211)
Munhall (15120)
Pleasant Hills (15236)
Scott Township (15220)
South Park (15129/15236/15332)
Upper St. Clair (15241)
West Homestead (15120)
Whitehall (15227)
The South Hills of Pittsburgh has it ALL within 25 radial miles. Come to work and play here, but ultimately join the South Hills Chamber of Commerce to GROW your business.
The South Hills of Pittsburgh has much to offer in terms of shopping, schools, health care facilities, lush green environmental surroundings and great opportunities for business. The South Hills is home to the infamous "T" trolley transportation, as well as bus service to some of the communities. It is a "city" within a city. Residents often do not have to leave the South Hills, except to attend special events held at the PPG Paints Arena, Heinz Field and PNC Park or to engage in the dynamic art and entertainment scene in the Cultural District. Here in the South Hills, it's clear: we truly love our sports and cultural events.
Using the Route 19S, Route 51 and Route 88 corridors, we can quickly visit a variety of shopping centers and enjoy a great variety of dining. With the Parkway West and Interstate 79 providing for easy access to the North Hills, the Airport Corridor and nearby Washington County, we can be anywhere in 30-45 minutes. Our friendly, adjoining Washington County is just a few miles from South Hills Village, which provides our members with an even greater opportunity to network, shop and expand their business opportunities into another county.
With new businesses in Mt. Lebanon, Bethel Park, Upper St. Clair, McMurray, Route 51's ongoing efforts with revitalization, Route 88's development and Washington County on our border developing Southpointe and the Meadowlands Area, we experience development every day somewhere in the South Hills of Pittsburgh.
Where else can you live and visit a few farms (Trax and Simmons) to pick your own flowers, apples, or pumpkins, picnic at a sprawling county park (South Park), and enjoy the benefits of the city, yet still be located in a suburban setting? With all of these amenities and convenient services, the South Hills is a central area to start a business or grow a business. There also exists superior talent and an educated workforce to support our businesses.
The South Hills Chamber of Commerce is a regional chamber serving the communities located in the south of downtown Pittsburgh. We encourage businesses that are located in, or wish to do business in, the region to join our growing chamber.